Protection From Sexual Violence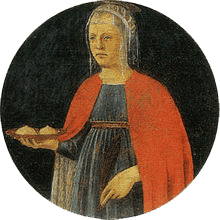 O Saint Agatha,
you resisted unwelcome advances from unwanted suitors,
and suffered pain and torture for your devotion to our Lord Jesus Christ;
we celebrate your faith, dignity and martyrdom.
Protect us from sexual and other violations,
guard us against all afflictions,
and inspire us to overcome adversity.
Saint Agatha, virgin and martyr,
mercifully grant that we who venerate your sacrifice
may receive your intercession in times of need. Amen.
… St Agatha, Pray for Us …
Petition Prayer I

Lord God, you showered heavenly gifts on Saint Agatha.
Hear the prayers of those who recall her devoted life
and who ask her to intercede for them in their necessity.
(Share your intention and reflect for a few moments…)
Help us to imitate her virtues during our earthly life
and enjoy eternal happiness with her in heaven. Amen.
… St Agatha, Pray for Us …
Petition Prayer II

Almighty God, among the many marvels of Your power,
you granted to St Agatha, the victory of martyrdom.
Now in your mercy, as we celebrate the life of St Agatha and seek her help…
(Name request…) grant to us the joy of being drawn closer to You.
This I ask through Jesus Christ, Thy Son, who lives and reigns, world without end. Amen.
… St Agatha, Pray for Us …
Related Links: