Lord Jesus, look kindly on my work and the work of my friends today.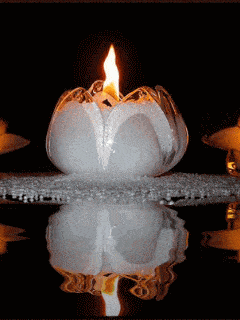 Help us in our difficulties and decisions.
May this candle be a light for you to enlighten me. May it be a fire for you to burn out of me all pride, selfishness and impurity. May it be a flame for you to bring warmth into my heart; warmth towards my family, my neighbours and all whom I meet.
~~~ ~~~ ~~~
Jesus, through the hands of Mary, Virgin and Mother, I place in your care, this, my special intention… (Share your request…)
By sharing this candle, I wish to give you something of myself; the love in my heart.
Jesus, help me to live close to you in prayer today. 
… Thank You, Jesus. Amen. …
---
Prayer Request Box
Note: Website users private prayer intentions, are automatically included in our Daily Novena and Monthly Masses.

However, if you still wish to submit a written request to our Prayer Group, do so below (Max 130 characters):
Recent Requests
Pray for all those suffering mental disabilities and keep my 14 year-old sister CM in your prayers.

Pray that my family will remain safe in their travels this weekend. Thank you.

Thank You God. Despite the wrong that we continue to do to each other and your beautiful world, You Love Us.

I give thanks to Jesus for all the good that he has brought into my life and the support he has given in difficulties.

Pray that I will follow the path God wants me to.

May the Lord help my family to accept God's will.

Pray for all suffering souls. May they receive the reward of heaven in the company of their friends.

Help me to understand better what Jesus is asking me to do with my life.

Pray for me, the old and lonely.Help them Lord Jesus.

Pray that the Ukrainian war does not become a World War. Pray for peace.

Please pray for my Prometric exam result and pray for my family.

Take care of the homeless my children lord my grandchildren and every soul on this earth lord

Please Heal my sister Samira from cancer✝️✝️✝️🕯️🕯️🕯️🙏🏻🙏🏻🙏🏻

Mammy says I am not a good girl 🙏

Say a little prayer for all those children who have to go to school, like me, and those who can't go to school! Why?

Remember all the suffering souls in purgatory in your prayers please? Have mercy on them Lord.

Pray for parents, that they will be good mothers and fathers to their children.

Remember my disabled sister CM who always smiles. 🙂

Ask God to help the disabled and their Carers. 🦽

Thank God for his great kindness and the many other blessings which I often fail to see. Thank you.

Pray for my suffering children.

For hospital doctors, nurses and all helpers who give their love to the sick and dying. God, have mercy on the dying.

God be merciful to my family and PD and BD my parents. May my parents enjoy the peace and happiness of heaven with you. 💒

May all Angels and Saints come to our aid, solve our many family problems and give healing to our community. I pray 🙏 🙏 🙏

Keep my little sister (...) safe, help her in her recovery and help all sick and suffering children in hospitals.

Pray with us for peace in Palestine and Israel, stop the fighting, stop the killing.

Pray for the eternal rest of the souls of BD, PD, MM, PM, FM and all those I promised to pray for. Thank you Jesus.

Pray for the children who have been taken from their parents in Ukraine; may they be reconciled once more.

Pray that the scars of war in our country will heal and we will all feel safe again as a family.

Please pray for RG and LP, for protection and healing; for friends Rev IPK and sister JP, both in bad car accident in February...