Featured Saint: St John the Baptist (Died 31-36)
John the Baptist's birth, was foretold by an Angel to Zechariah his father. At the time, Zechariah was an old man and his wife Elizabeth was barren.
John is described as having been sent by God "to bear witness to the light so that through him everyone might be saved." John preached a message of baptism for the forgiveness of sin and described Jesus as the one who would "baptise with the Holy Spirit." When John and Jesus met at the River Jordan, Jesus insisted that John baptise him, whereupon the heavens opened and a voice proclaimed, "This is my beloved Son, in whom I am well pleased."
John was imprisoned by Herod for denouncing his marriage to his brother's former wife and niece. Soon after, John was beheaded as a 'favour' to Herod's stepdaughter.
+In the Name of the Father, and of the Son, and of the Holy Spirit. Amen+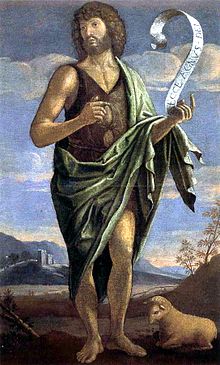 Short Story: An Angel appeared to Zechariah and told him that his wife would bear a son whom he will name John. How could this possibly happen, he was an old man and his wife Elizabeth, barren! But it came to be as the Angel had said and John the Baptist was born. Nothing is impossible for God!
Thoughts: John the Baptist was a man of immense faith. He preached saying, "I am the voice of one crying in the wilderness. Make straight the way of the Lord". Yet all this happened before John ever met Jesus! (John 1:23)
Private Reflection: Lord Jesus, strengthen my faith and bring out the greatness in me.
Prayer: Holy Spirit
Most Holy Spirit, beloved of my soul, I adore You.
Enlighten me, guide me, comfort me, console me.
I promise to submit myself to all You desire of me,
And permit all You wish to happen to me.
Give me Your help, tell me what to do.
Most holy Spirit, bring peace to my world. Amen.
St John the Baptist: Pray for Us
Today's Music Suggestion: Holy, Holy, Holy
+ In the Name of the Father, and of the Son, and of the Holy Spirit. Amen +
[To view and enjoy the full Readings for today TAP HERE ~ Opens in a new Window]
(24th June 2015)