Featured Saint: St Joseph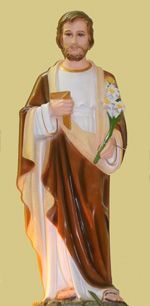 St Joseph was the Blessed Virgin Mary's husband and Foster Father to Jesus. He was a carpenter and lived with his family in the Nazareth region of Israel. Joseph moved from one place to another to avoid Herod's persecution during Jesus' early life. As a caring parent he established a safe home for his wife and Jesus.
The final New Testament reference to St Joseph is when Jesus was twelve years old. Since Jesus started his ministry in his early thirties, it is feasible to assume that St Joseph died somewhere in the interim. St Joseph is the Patron Saint of workers.
+In the Name of the Father, and of the Son, and of the Holy Spirit. Amen+
Short Bible Story: On the Feast of the Passover, Joseph and Mary proudly accompanied Jesus to Jerusalem. On their return home, they both assumed Jesus was travelling with the other, among the large caravan of people but, no!
They spent three days looking for Him, only to eventually find him in the Temple. Jesus said to them, "Why were you looking for me? Didn't you know that I must be in my Father's house?" (Luke 2:49)
Thoughts: St Luke writes in his Gospel, "Mary kept all these things in her heart" but, we can safely assume that Joseph was similarly stressed!
Prayer to St Joseph
O St Joseph whose protection is so strong,
so great, so prompt before the Throne of God,
I place in you all my interests and desires.
O St Joseph do assist me by your powerful intercession
and obtain for me from your Divine Son all spiritual blessings
through Jesus Christ, Our Lord.
So that having engaged here below your Heavenly power
I may offer my Thanksgiving and Homage to the most Loving of Fathers.
O St Joseph, I never weary of contemplating you
and Jesus asleep in your arms.
I dare not approach while He reposes near your heart.
Press him in my name and kiss His fine head for me,
and ask Him to return the kiss when I draw my dying breath.
St Joseph, Patron of departing souls, pray for me. Amen
St Joseph: Pray for Us
Today's Music Suggestion: Make Me a Channel of Your Peace
+In the Name of the Father, and of the Son, and of the Holy Spirit. Amen+
[To view and enjoy the full Readings for today TAP HERE – Opens in a new Window]