Featured Saint: St Dismas
St Dismas was one of the two thieves crucified with Jesus, one on his right and one on his left. St Dismas, on the right, rebuked the other thief for mocking and saying to Jesus; "Are you not the Messiah? Save yourself and us". St Dismas reminded him that they were being justly punished for their sins while Jesus had done nothing wrong.
St Dismas said to Jesus, "Remember me when you come into your kingdom", to which Jesus replied, "Amen I say to you, today you will be with me in Paradise". (Luke 23:42-43)
+In the Name of the Father, and of the Son, and of the Holy Spirit. Amen+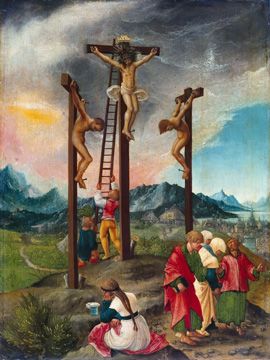 Short Quote: Jesus said to a group of Judeans, "I tell you the solemn truth, if anyone obeys my teaching, he will never see death. Before Abraham came into existence, I was". (John 8:51, 58)
Thoughts: It's heartening to listen to Jesus' reaction to St Dismas! Why? Well, because I am also a sinner and knowing that I could be with Jesus in Paradise, on the very day of my death, is my dream!
Prayer: To St Dismas
Glorious Saint Dismas,
you alone were Canonized a Saint by Christ Himself;
you were assured of a place in Heaven with Him, "This day"
because you confessed your sins to Him on Calvary;
and you were truly sorrow for them as you hung beside Him on a cross;
you who opened the Heart of Jesus in mercy and forgiveness
even before the centurion's spear tore it asunder;
you whose face was close to that of Jesus in His last agony,
to offer Him a word of comfort;
you who knew how to pray,
teach me the words to say to gain pardon for my sins;
and you who are close to Him now in Heaven,
pray to Him for me that I shall never again desert Him,
but that at the close of my life I may hear the words He addressed to you:
"This day thou shalt be with Me in Paradise." Amen.
St Dismas: Pray for Us
Today's Music Suggestion: Table of Plenty
+In the Name of the Father, and of the Son, and of the Holy Spirit. Amen+
[To view and enjoy the full Readings for today TAP HERE – Opens in a new Window]