---
St Thomas a Becket

(1118 Approx – 1170)
St Thomas Becket was born in Cheapside, London. His father had progressed from being a textile merchant to a rental property owner in London. St Thomas often visited one of his father's rich friends estates, where hunting and hawking were common sports.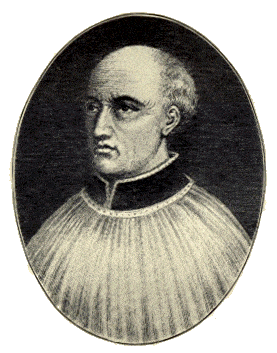 At ten, St Thomas Becket attended grammar school and then at 20, went to Paris for a year. Later he worked as a clerk to the Archbishop of Canterbury. The Archbishop entrusted him with several important missions to Rome and sent him to Bologna and Auxerre to study Canon Law. In 1154 he was appointed Archdeacon of Canterbury and a year later, Lord Chancellor.
In 1162, St Thomas Becket was appointed Archbishop of Canterbury. Soon, a rift grew between him and the King, as the King sought to weaken his connection with Rome. At one stage, St Thomas fled to the Continent, remaining for two years. Despite agreements prior to his return, the conflict continued. King Henry's anger towards St Thomas was interpreted by some, as a royal command to confront the Archbishop and "remove him".
St Thomas was martyred by four knights at Canterbury Cathedral. His final words were, "For the name of Jesus and the protection of the Church, I am ready to embrace death". He is Patron Saint of Exeter College, Oxford.
---
Story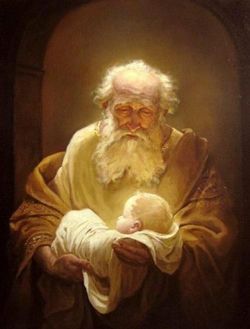 It was revealed by the Holy Spirit to Simeon, a righteous and devout man, that he would not die before he had seen Jesus.
Directed by the Holy Spirit, he went to the Temple at a time when Mary and Joseph were present with the baby Jesus.
Simeon took Jesus in his arms and said, "Now, according to your word, Sovereign Lord, permit your servant to depart in peace. For my eyes have seen your salvation that you have prepared in the presence of all peoples". (Luke 2:29-31)
Thought
The thoughts of Mary and Joseph must have been a churning mix of amazement and shock. But, this wasn't their first time to be overwhelmed; their faith was firm.
Reflection
Lord Jesus, guide and strengthen the mothers, fathers and guardians of your children, the seeds of your harvest. Inspire all, by the power of your Holy Spirit.
A Prayer –

Happiness (Mother Teresa)
May, today, there be peace within you.
May you trust God, that you are exactly where you are meant to be.
May you not forget the infinite possibilities,
that are born of faith.
May you use those gifts that you have received,
and pass on the love that has been given to you.
May you be content knowing that you are a child of God.
Let His presence settle into your bones,
and allow your soul the freedom to sing, dance,
and to bask in the sun.
It is there for each and every one of you.
Private Moments

St Thomas Beckett:
Pray for us that we will remain faithful to the teachings of Jesus Christ.
Glory be to the…
Almighty God, thank you for this new day. Bless me and keep me safe.
Listen, reflect, enjoy…
| | |
| --- | --- |
| Fr John's Weekly: | Today's Readings: |