St David Lewis (1616 -1679), also known as Charles Baker, was born into a Protestant family at Abergavenny, Wales. At the age of 16, while visiting Paris, he converted to Catholicism and travelled to Rome where he studied for the priesthood. In 1642, he was ordained a Priest and a few years later joined the Jesuits.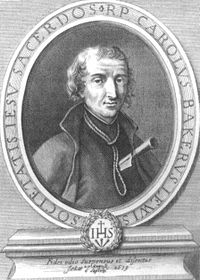 In 1679, St David was arrested and charged with being a Catholic Priest and saying Mass. Like other arrested Priests, he was sent to London to be questioned regarding the fake so-called "Popish Plot". At his trial, witnesses claimed they saw him perform Mass and other religious services.
St David was found guilty of becoming a Catholic Priest and remaining in England. He was taken to Newgate Prison and promised many favours if he gave evidence about the non-existent "Popish Plot". In his final speech, St David said of the "Plot", "I knew of none, and conform [to Protestantism] I would not, for it was against my conscience". St David was taken back to Wales and hanged.
St David's Feast Day is the 27th August. He is one of the forty English and Welsh Martyrs.
---
St David Lewis:
Pray for us that we will see only good in others and seek ways to help those filled with hatred for our faith.
Glory be to the…
---