Featured Saint: St Wenceslaus (905ca – 935)
St Wenceslaus was born the son of the Duke of Bohemia in Prague, Czech Republic. His father was Christian and his mother a pagan although, baptised a Christian just before their marriage. Sadly, his father died when he was 13 and his grandmother, who cared for him, was killed by his mother as a result of family infighting for power.
In his youth, St Wenceslaus was very pious. At 18, he was appointed Duke, but great political turmoil followed, leading to multiple factions and fighting. Despite the problems, he was "a gifted ruler and genuine friend of the Church." His life is part celebrated in the Christmas Carol, Good King Wenceslaus.
In 935, St Wenceslaus was invited to attend celebrations for the feast of Saints Cosmos and Damien; it was a plot. On his way to the Church he was killed during a confrontation with his ruling brother and three of his companions. He was immediately considered to be a martyr. He is the Patron Saint of Bohemia and parts of the Czech Republic.
+ In the Name of the Father, and of the Son, and of the Holy Spirit. Amen +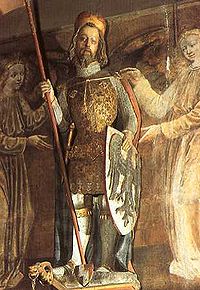 Short Quote: When Jesus heard the disciples arguing about who was the greatest, he placed a child by his side and said, "Whoever receives this child in my name receives me, and whoever receives me receives the one who sent me. For the one who is least among all of you is the one who is the greatest." (Luke 9:46-47)
Thoughts: The striking image of one small child, standing beside Jesus but surrounded by a circle of big squabbling adults, must have impacted heavily on the disciples ego!
The simplicity and humility of the child gets most peoples vote every day!
Reflection: Lord Jesus, keep me close to my roots. Instill in me the desire to retain my childhood love for everyone and everything. Teach me your caring ways.
Prayer: Teach Us ~ St Ignatius of Loyola
Teach us Good Lord;
To serve you as you deserve;
To give and not to count the cost;
To fight and not to heed the wounds;
To toil and not to seek for rest;
To labour and to ask for no reward,
Save that of knowing we do your will.
St Wenceslaus: Pray for Us
Today's Music Suggestion: Lord I Offer My Life To You
+ In the Name of the Father, and of the Son, and of the Holy Spirit. Amen +
[To view and enjoy the full Readings for today

TAP HERE

– Opens in a new Window]
(28th September 2015 ~ Luke 9:46-50)