---
St Robert Bellarmine

(1542 -1621)
St Robert Bellarmine was born into a noble but impoverished family at Montepulciano, Italy. He was a bright student and at 16, entered a novitiate in Rome. He then progressed to the Universities of Padua and Leuven.
Following his ordination, St Robert began a long teaching career at Leuven University. He became a well-known Jesuit professor and preacher. St Roberts works and achievements led to two Popes, Sixtus and Clement, choosing him as a respected papal theologian to help them guide the Church. He was appointed Rector of the Roman College and a Cardinal. He is a Doctor of the Church.
---
Story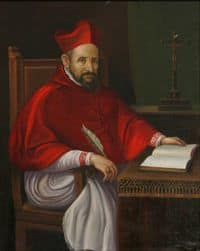 Jesus told a parable about a farmer going out to sow seed. In it he described seed falling on different parts of the field, some grew and some didn't.
The seed that fell on the footpath was eaten by birds. This seed, Jesus explained, represented the Word of God which was heard but, others came and took it away! (Luke 8:4-15)
Thought
Sadly, it's likely that many of us will know friends or even family members who, no longer follow their faith; others have come and taken it away!
We can be easily overwhelmed by thoughts of sorrow and hope for them but, we must also remember that often, as they watch our own daily faith practices, they return as staunch allies.
Remember the power of prayer, it keeps the "birds away."
Reflection
Good Jesus, strengthen our faith. Give us the wisdom to reach out to others as they question their beliefs. May we be guiding stars to each other. This we ask through the intercession of the Angels and Saints. Amen.
A Prayer –

Faith (St Benedict)
Gracious and Holy Father,
give us the wisdom to discover You,
the intelligence to understand You,
the diligence to seek after You,
the patience to wait for You,
eyes to behold You,
a heart to meditate upon You,
and a life to proclaim You,
through the power of the Spirit of Jesus, our Lord. Amen.
Private Moments
Music Suggestion: Be Not Afraid

Listen, reflect, enjoy…

https://www.youtube.com/watch?v=dWpG7qHtB8g&end=256&width=220&height=125

St Robert:

Pray for us that our understanding of Jesus' Gospel message will increase daily.

Glory be to the…

Almighty God, thank you for this new day. Bless me and keep me safe.
Other Links
| | |
| --- | --- |
| Fr John's Weekly: | Today's Full Readings: |