Jesus' Life: Chapter 2 – Jesus' Birth And Childhood
Mary and Joseph took the baby Jesus to Jerusalem. It was Jewish custom to present all first-born males to the Lord after forty days and offer a sacrifice, a pair of doves or two young pigeons.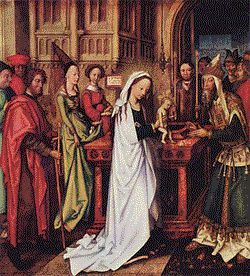 While in the Temple Courts, an old man named Simeon, who had been promised by the Holy Spirit that he would not die until he had seen Jesus, took the baby in his arms and blessed God saying, "Lord, now let your servant go in peace; your word has been fulfilled: my own eyes have seen the salvation."
Then turning to Mary, Simeon said, "Behold, this child is destined for the fall and rise of many in Israel…and you yourself a sword will pierce."
Mary's heart was "pierced" many times during Jesus' ministry especially, at the time of his trial and crucifixion. (Lk 2:22-35)
Thought
It's easy to imagine Mary and Joseph as very proud parents, carrying their forty day-old baby to Jerusalem. But what must they have thought when they heard Simeon's prophecy?
Reflection

Lord Jesus, give me the wisdom to take one day at a time and pray that at the end of each, I will have created a lasting legacy of thanks to You.
Prayer:
Stillness
O Blessed Jesus,
give me stillness of soul in You.
Let Your mighty calmness reign in me.
Rule me,
O King of Gentleness,
King of Peace.