Feast Day: Nativity of the Blessed Virgin Mary
Today we celebrate the day on which the Blessed Virgin Mary was born.
Mary is traditionally believed to have been born in Jerusalem. Her parents were St Joachim and St Anne. Like all new parents, Mary's birth would have been a very joyous occasion for her parents and wider family, not least because they were in advanced years and childless. The birth is not recorded in scripture but nonetheless, celebrated by the Church because of its significance to our salvation.
Mary, St Joachim and St Anne, we humbly thank you for the great blessing you bestowed on us.
+ In the Name of the Father, and of the Son, and of the Holy Spirit. Amen +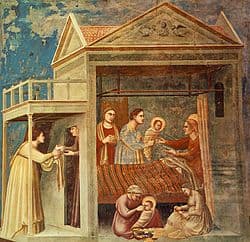 Short Story: When Joseph, who was engaged to Mary, found out that she was pregnant, he planned to quietly divorce her. But an Angel appeared to him and said, "…do not be afraid to take Mary as your wife, because the child conceived in her is from the Holy Spirit. She will give birth to a Son and you will name him Jesus". (Matthew 1:20-21)
Thoughts: This must have been an extremely difficult time for Joseph and Mary, but God the Father was caring for all three!
Today, He still cares for the world, and you and me!
Reflection: Mary, I pray that today I will find the strength to carry my small burden with a smile, knowing you are helping. Touch my heart, ask Jesus to grant me the grace to understand and accept my world.
Prayer: Memorare
Remember O Most Gracious Virgin Mary,
that never was it known
that anyone who fled to Thy protection,
implored Thy help or sought Thy intercession,
was left unaided.
Inspired with this confidence,
I fly onto Thee O Virgin of Virgins, my Mother;
to Thee I come; before Thee I stand,
sinful and sorrowful,
O Mother of the word incarnate,
despise not my petitions;
but in Thy mercy hear and answer me. Amen.
Blessed Virgin Mary: Pray for Us
Today's Music Suggestion: Be Not Afraid
+ In the Name of the Father, and of the Son, and of the Holy Spirit. Amen +
[To view and enjoy the full Readings for today

TAP HERE

– Opens in a new Window]
(8th September 2015 ~ Matthew 1:18-23)