Featured Saint: St Vincent of Saragossa (Died about 304)
St Vincent was born in Huesca but lived in Saragossa, Spain. He is the Patron Saint of Lisbon and Valencia. The Island of St Vincent in the Caribbean is named after him. St Vincent was another of those many people who resolutely refused to renounce his Christian faith and was imprisoned, tortured and then martyred.
+In the Name of the Father, and of the Son, and of The Holy Spirit. Amen+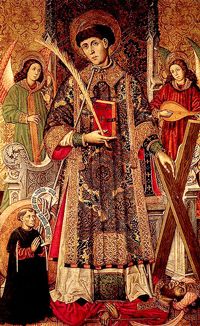 Short Quote: People from afar had heard about Jesus, "For Jesus had healed many, so that all who were afflicted with diseases pressed toward him in order to touch him". (Mark 3:10)
Thoughts: We all need healing at some time! Often, it seems as if by chance that it happens; Jesus is still working his miracles here on earth and will continue to do so today.
Private Reflection: Lord Jesus, today I give glory to your name; thank you for bringing new life to the sick and new energy to the weary.
Prayer: Come Holy Spirit
Come Holy Spirit, and fill the hearts of your faithful,
and kindle in them the fire of Your Divine Love.
Send forth Your Spirit and they shall be created,
and You shall renew the face of the earth.
O God, Who by the light of the Holy Spirit
instructed the hearts of the faithful.
Grant, that by the same Spirit
we may be truly wise and ever rejoice in His consolation.
We ask this through Christ Our Lord. Amen.
St Vincent of Saragossa: Pray for Us
Today's Music Suggestion: Wind Beneath My Wings
+In the Name of the Father, and of the Son, and of The Holy Spirit. Amen+
[To view and enjoy the full readings for today TAP HERE – Opens in a new Window]