Featured Saint: St Thomas More (1478 – 1535)
St Thomas More was born into an upper class family in London. He was educated at St Anthony's School, deemed "one of the finest available". Between the ages of 12 and 14 he was an attendant to the Archbishop of Canterbury who nominated him for a place at Oxford University. There he studied classics and became fluent in Latin and Greek but left university after only two years for a legal career. He later joined the bar in 1502. St Thomas More was elected to Parliament in 1504 and henceforth began a long political career to the office of Lord Chancellor. He opposed the King's marriage annulment to Queen Catherine of Aragon, refused to attend the coronation of Anne Boleyn as Queen of England and opposed the supremacy of the crown which belittled the Papacy. St Thomas More was tried for treason and executed.
+In the Name of the Father, and of the Son, and of the Holy Spirit. Amen+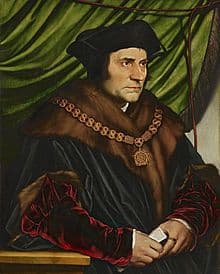 Short Story: Jesus said, "I am the living bread that came down from heaven. If anyone eats from this bread he will live forever. The bread that I will give for the life of the world is my flesh". (John 6:51)
Thoughts: God our Father, may I never cease to share your Good news with all who will listen.
Private Reflection: I pray Lord, that all may partake of the bread you offer and follow you into your new creation.
Prayers: Select your own personal prayers from our website.
St Thomas More: Pray for Us
+In the Name of the Father, and of the Son, and of the Holy Spirit. Amen+
[To view and enjoy the full readings for today CLICK HERE]
[To view and enjoy a commentary on todays readings CLICK HERE]