Featured Saint: St Thomas Aquinas (1225-1274)
St Thomas Aquinas was born into a wealthy family in Roccasecca, Italy. He joined the Dominicans and studied at The University of Paris. Thereafter, he taught as Professor and held other noted positions in various institutions. St Thomas Aquinas was a distinguished and immensely influential theologian and Doctor of the Christian Church. In 1880, he was declared Patron of all Catholic educational establishments. Just 50yrs after his death he was canonised a Saint.
+In the Name of the Father, and of the Son, and of the Holy Spirit. Amen+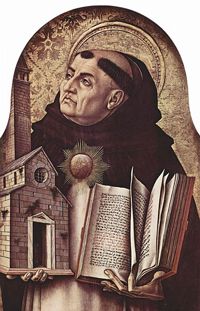 Short Quote:  Jesus taught the crowds using many parables. In his parable of the Sower, He compared those who listen to the Word of God to seed that, "fell on good soil and produced grain, sprouting and growing; some yielded thirty times as much, some sixty, and some a hundred times". (Mark 4:8)
Thoughts: As we go about our chores today, may the currents we create blow the 'seed' we sow onto good soil.
Let's never forget that our behaviour and actions matter, they influence someone!
Reflection: Lord Jesus, guide my thoughts and refresh my intentions. Pour your Holy Spirit into my life.
Prayer: Sweet Jesus by St Thomas Aquinas
Sweet Jesus, Body and Blood most Holy,
be the delight and pleasure of my soul,
my strength and salvation in all temptations,
my joy and peace in every trial,
my light and guide in every word and deed,
and my final protector in death. Amen.
St Thomas Aquinas:   Pray for Us
Today's Music Suggestion: Make Me a Channel of Your Peace
+In the Name of the Father, and of the Son, and of the Holy Spirit. Amen+
[To view and enjoy the full readings for today TAP HERE – Opens in a new Window]