Featured Saint: St Teresa of Avila (1515 – 1582)
St Teresa was born at Avila, Spain. Her mother died when she was 14, "prompting her to embrace a deeper devotion to the Virgin Mary as her spiritual mother". She entered a cloistered life with the Augustinian Nuns. While there her health deteriorated but her religious and mystical experiences flourished. She then entered a Carmelite Monastery but unable to find the deep devotional prayer life that she had hoped for, with the help of others she ultimately reformed the Order – but not without many great difficulties. Catholics associate St Teresa with the venerated image of the Infant of Prague. St Teresa is a Doctor of the Church and Patron Saint of Spain.
+In the Name of the Father, and of the Son, and of the Holy Spirit. Amen+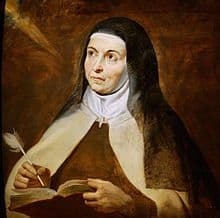 Short Quote: Jesus said to a group of Pharisees, "You neglect justice and love of God…" but "you love the best seats in the synagogues and elaborate greetings in the marketplaces". (Luke 11:43)
Thoughts: St Teresa's final words before her death were: "My Lord, it is time to move on… may your will be done. O my Lord and my Spouse, the hour that I have longed for has come. It is time to meet one another".
Private Reflection: Lord, show me how to be a true follower of your gospel; a true friend and equal to my brothers and sisters throughout the world.
Prayer: Prayer by St Teresa:
Let nothing disturb you.
Let nothing make you afraid.
All things are passing.
God alone never changes.
Patience gains all things.
If you have God you will want for nothing.
God alone suffices.
St Teresa: Pray for Us
+In the Name of the Father, and of the Son, and of the Holy Spirit. Amen+
[To view and enjoy the full Readings for today CLICK HERE]