Featured Saint: St Rose Philippine Duchesne (1769 – 1852)
St Rose was born the second of seven daughters and one son into a wealthy family at Grenoble, France. She contacted smallpox in childhood which left her partially scarred. She was educated in a local monastery and then privately in the family Chateau. At 19, St Rose secretly joined a religious order against her family's wishes. She remained there for 4yrs until the monastery was closed, due to the French Revolution, and returned home. St Rose yearned to return to monastic life so when the Catholic Church was allowed to reopen its buildings in 1801 she went back to her badly destroyed monastery and tried to rebuild it along with other community members. In 1815 she established a new convent in Paris and opened a school. While in Paris an opportunity to fulfil her lifelong missionary dream arose. She travelled to Missouri, with a small group of other Sisters, to establish a new community among the poor and hungry immigrants. The work of her Order flourished. Much of the last decade of her life was spent in quiet prayer. She died aged 86yrs.
+In the Name of the Father, and of the Son, and of the Holy Spirit. Amen+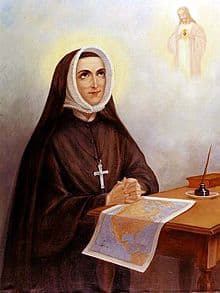 Short Quote: "When Jesus approached and saw the city [Jerusalem] he wept over it". (Luke 19:41)
Thoughts: Jerusalem was Jesus' home city. It was close to his heart. He knew that a great opportunity of salvation was being refused by its people. Indeed, the people were planning to kill him!
Private Reflection: "We cultivate a very small field for Christ, but we love it, knowing that God does not require great achievements but a heart that holds back nothing for oneself…. The truest crosses are those we do not choose ourselves…. He who has Jesus has everything". (St. Rose Philippine Duchesne)
Prayers: Select your own personal prayers from our website.
St Rose Philippine Duchesne: Pray for Us
+In the Name of the Father, and of the Son, and of the Holy Spirit. Amen+
[To view and enjoy the full Readings for today TAP HERE]