Featured Saint: St Rose Philippine Duchesne (1769 – 1852)
St Rose was born the second of seven daughters and one son, into a wealthy family at Grenoble in France. She contacted smallpox in childhood which left her partially scarred. She was educated in a local monastery and then privately, in the family Chateau.
At 19, St Rose secretly joined a Religious Order, against her family's wishes. She remained there for four years until the monastery was closed, due to the French Revolution, and then returned home.
St Rose yearned to return to monastic life but had to wait 7-8yrs before the Catholic Church was allowed to reopen its buildings. Overjoyed, she returned, with other community members, to the badly destroyed monastery and tried to rebuild it. In 1815, St Rose established a new convent in Paris and opened a school. It was there that an opportunity to fulfill another of her dreams arose, to be a missionary. She traveled to Missouri, with a small group of Sisters, and established a new community among the poor and hungry immigrants. Her work and that of her Order flourished. Much of St Rose's last decade was spent in quiet prayer. She died, aged 86yrs.
+ In the Name of the Father, and of the Son, and of the Holy Spirit. Amen +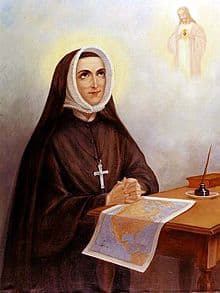 Short Quote: Jesus often went to the temple to pray and preach.
Once when he found that its courts were being used as a market place, he drove everyone out saying, "It is written, 'My house will be a house of prayer,' but you have turned it into a den of robbers". (Luke 19:46)
Thoughts: When we love someone, we take care of them and their home.
May others find love, happiness and solace in our designated Homes of Prayer,
Private Reflection: "We cultivate a very small field for Christ, but we love it, knowing that God does not require great achievements but a heart that holds back nothing for oneself…. The truest crosses are those we do not choose ourselves…. He who has Jesus has everything". (St. Rose Philippine Duchesne)
Prayer: Jesus Our True Love ~ by Hildegard of Bingen
Jesus Christ, the love that gives love,
You are higher than the highest star;
You are deeper than the deepest sea;
You cherish us as your own family;
You embrace us as your own spouse;
You rule over us as your own subjects;
You welcome us as your dearest friend.
Let all the world worship you.
St Rose Philippine Duchesne: Pray for Us
Today's Music Suggestion: Be Thou My Vision
+ In the Name of the Father, and of the Son, and of the Holy Spirit. Amen +
[To view and enjoy the full Readings for today TAP HERE – Opens in a new Window]
(20th November 2015 ~ Luke 19:45-48)