Feast Day: Dedication of the Basilicas of St Peter and St Paul
In the fourth century, the Emperor Constantine the Great had two Basilicas built in Rome; the Basilica of St Peter and the Basilica of St Paul. The Basilica sites were believed to be the actual burial place of St Peter and St Paul and where, for the previous century, pilgrims had been visiting to pay tribute.
Today, Bishops are required to visit "the Tombs of the Apostles" every five years and report on the status of their Dioceses to the Vatican.
+ In the Name of the Father, and of the Son, and of the Holy Spirit. Amen +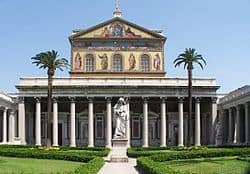 Short Story: Jesus told the Parable of the Gold Coins.
In it, he described an overjoyed Nobleman when he returned from a distant country and received, from one of his servants, twenty gold coins in return for trusting him with just ten.
The Nobleman said, "Well done, good servant. You have been faithful in this very small matter; take charge of ten cities". (Luke 19:17)
Thoughts: A young elementary school child's understanding of the parable went like this:
"The servants were being tested by their boss. He wanted to know if they could look after his gold; to see if they loved Him. If so, he would take them up to heaven; if not, well I don't know what God would do with them!"
Private Reflection: Lord Jesus, your love links earth to heaven. Lift my eyes to see your glory, so that where you are, I may be also.
Prayer: God's Kingdom ~ Pope Pius VI
May your Kingdom come for all people,
of every language and nation;
your Kingdom of justice, of peace, of love,
and may all the earth be filled with your glory.
We make this prayer through the Prince of Peace. Amen.
Saints Peter and Paul: Pray for Us
Today's Music Suggestion: At The Cross
+ In the Name of the Father, and of the Son, and of the Holy Spirit. Amen +
[To view and enjoy the full Readings for today TAP HERE – Opens in a new Window]
(18th November 2015 ~ Luke 19:11-28)