Feast Day: Dedication of the Basilicas of St Peter and St Paul
In the fourth century, the Emperor Constantine the Great had two Basilicas built in Rome; the Basilica of St Peter our first Pope, and the Basilica of St Paul. The sites were believed to be the place of their burial and for over a century many pilgrims had visited them to honour these two great disciples. Today, Bishops are required to go to "the Tombs of the Apostles" every five years and report on the status of their Dioceses to the Vatican.
+In the Name of the Father, and of the Son, and of the Holy Spirit. Amen+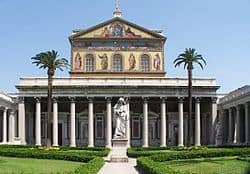 Short Story: When Jesus once entered Jericho he chose a rich tax collectors house to stay in overnight. The local people were aghast saying, "He has gone in to be the guest of a man who is a sinner". The man said to Jesus, "Look, Lord, half of my possessions I now give to the poor, and if I have cheated anyone of anything, I am paying back four times as much". Then Jesus said to him, "Today salvation has come to this household… for the Son of Man came to seek and save the lost". (Luke 9:7-10)
Thoughts: Jesus didn't say a rich man couldn't enter heaven, he just said that it was easier for a poor man!
Private Reflection: Lord Jesus, you are the light of the world. Shine in our hearts so that we can see your true love in the rich and the poor, in our words and our actions.
Prayer: For the Poor – by Mother Teresa
Make us worthy, Lord, to serve those people throughout the world who live and die in poverty and hunger. Give them through our hands, this day, their daily bread, and by our understanding love, give them peace and joy. Amen.
Saints Peter and Paul: Pray for Us
+In the Name of the Father, and of the Son, and of the Holy Spirit. Amen+
[To view and enjoy the full Readings for today TAP HERE]