Featured Saint: St Paul Miki and twenty five others (Died 5th February 1597)
All 26 martyrs, were executed for their faith by crucifixion and spearing, at Nagasaki, Japan. They included 17 Japanese laymen (amongst them 3 boys, the youngest 12yrs), 3 Japanese Jesuits, 4 Spanish, 1 Mexican and 1 Indian.
By the end of the sixteenth century, Japanese rulers had started to view Christianity as a threat, so they banned the religion and persecuted the believers. Many other Christians, perhaps thousands, suffered the same martyrdom.
+In the Name of the Father, and of the Son, and of the Holy Spirit. Amen+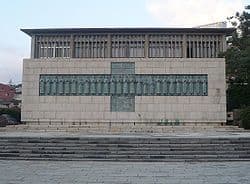 Short Story: When King Herod was gruesomely asked for "the severed head of John the Baptist", to please his family and dinner guests, he ordered John's immediate beheading, saying, "Whatever you want… I will give to you". (Mark 6:23)
Thoughts: What is wealth, how much do I actually possess?
Private Reflection: Lord Jesus, all that I have is yours, it was never mine anyway!
Jesus, grant me the grace to see and serve, only you.
Prayers: Abandonment (Charles de Foucauld)
Father, I abandon myself into your hands;
do with me what you will.
Whatever you may do, I thank you;
I am ready for all, I accept all.
Let only your will be done in me.
I wish no more than this, O Lord.
Into your hands I commend my soul:
I offer it to you with all the love of my heart,
for I love you, Lord, and so need to give myself,
to surrender myself into your hands without reserve
and with boundless confidence, for you are my Father.
St Paul & Companions: Pray for Us
Today's Music Suggestion: Lay your Hands
+In the Name of the Father, and of the Son, and of the Holy Spirit. Amen+
[To view and enjoy the full Readings for today TAP HERE – Opens in a new Window]