Featured Saint: St Oliver Plunkett: (1625 – 1681)
St Oliver was born in County Meath, Ireland. His family were of noble heritage. He received a good education and chose to join the priesthood. He studied in Rome and was ordained a Priest in 1654. He was unable to return to Ireland immediately because of the aftermath of wars between Irish Catholics and English/Irish Protestants in which Catholicism was banned and Clergy were being executed. On his eventual return to Ireland he became a central figure in the reorganising of the ravaged Roman Catholic Church, building schools and seminaries and re-establishing the Catholic faith. He is said to have confirmed more than 48,000 Catholics over a 4yr period. However, further anti-Roman Catholic feelings were generated through a fictitious claim of a Catholic conspiracy to execute the King, Charles II. St Oliver Plunkett was eventually arrested and put on trial in London. Despite the many flaws during his trial and the many requests for 'clemency' he was found guilty of "promoting the Roman faith" and sentenced to be hanged, dawn and quartered. The Chief justice told St Oliver Plunkett, "You have done as much as you could to dishonour God … your treason was setting up your false religion … there is not anything more displeasing to God, or more pernicious to mankind in the world". He was the last Roman Catholic martyr to be executed in England.
+In the Name of the Father, and of the Son, and of the Holy Spirit. Amen+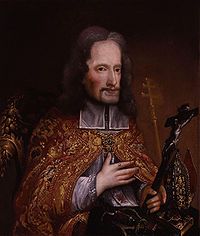 Short Story: Jesus was asleep on a boat when a storm developed. His disciples were terrified and woke Him up. Jesus said, "You people of little faith" and "got up and rebuked the winds and the sea" (Matthew 8:26) and the storm immediately subsided.
Thoughts: Lord Jesus, you reign over the whole universe but, I often forget!
Private Reflection: Holy Spirit, pour out your faith on me today. May I have no fear of the storms that await me; Jesus, I know you are always close by.
Prayers: Select your own personal prayers from our website.
St Oliver Plunkett: Pray for Us
+In the Name of the Father, and of the Son, and of the Holy Spirit. Amen+
[To view and enjoy the full Readings for today CLICK HERE]