Featured Saint: St Monica (331 – 387)
St Monica was born in Tagaste, Algeria. She was the mother of St Augustine of Hippo. Her husband was a "pagan" who it is said, had a violent temper and wayward habits! Her good deeds towards the Church, the poor and others annoyed him greatly. She bore two sons and a daughter. Her husband prevented her from having them baptised so when her son Augustine became seriously ill she was distraught. Finally her husband agreed to Augustine's baptism but as his illness subsided he withdrew his permission. Augustine's life continued to trouble her and bring great anguish. His youth was misspent, by his own admission, and it was only after many years of torment, aged 38, that he converted to Christianity. Augustine, now St Augustine of Hippo, is a greatly respected Doctor of the Church. St Monica is the Patron Saint of difficult marriages and disappointing children!
+In the Name of the Father, and of the Son, and of the Holy Spirit. Amen+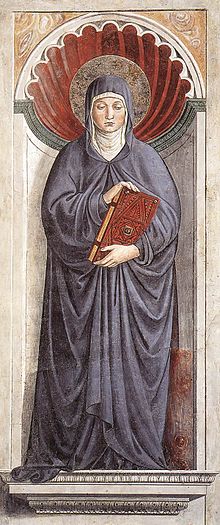 Short Quote: Jesus did not hesitate to condemn all who behaved as hypocrites. He warned, "… on the outside you appear righteous, but inside you are filled with hypocrisy and evildoing". (Matthew 23:28)
Thoughts: Am I false on the inside! God my maker knows everything!
Private Reflection: Lord Jesus, today may my 'smile' be filled with honesty and compassion and, my heart filled with wisdom and understanding. This I ask through Mary our Blessed Mother.
Prayers: Select your own personal prayers from our website.
St Monica: Pray for Us
+In the Name of the Father, and of the Son, and of the Holy Spirit. Amen+
[To view and enjoy the full Readings for today CLICK HERE]