Featured Saint: St Margaret of Scotland (1045 Approx. – 1093)
St Margaret was also known as Margaret of Wessex, Queen Margaret of Scotland and the Pearl of Scotland. She was born in Hungary while her father, Prince Edward, was in exile. She grew up in a very religious and pious environment. Her family returned to England in 1057 whereupon her father suddenly died on arrival. In 1068 the family again fled England, to Scotland. She married King Malcolm III and they had eight children. She happily tended to charitable works, serving orphans and the poor every day before she ate, and washing the feet of the poor in imitation of Christ. She rose at midnight every night to attend church services. She spent much of her time in prayer and penance. She also established monasteries and places of prayer for others to use. In 1093 her husband and son were killed in a battle, St Margaret already very ill, died three days later. She is Patron Saint of Scotland.
+In the Name of the Father, and of the Son, and of the Holy Spirit. Amen+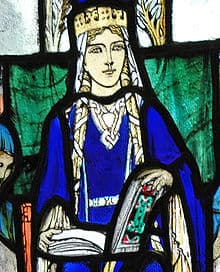 Short Story: Jesus told the parable of a master who entrusted his wealth to his servants before he went on a journey. When he returned he praised the servants who were given five and two talents; they had both doubled their value. To the one whom he had given one talent and who buried it for safe keeping, he said, "throw that worthless slave into the outer darkness, where there will be weeping and gnashing of teeth". (Matthew 25:30)
Thoughts: We have each received a different number of talents, and one day we will be asked, "What have you done with your talents"!
Private Reflection: Lord Jesus, you have shown us the road to eternal happiness, open our hearts and head to your truth. Help us to multiply, many fold, the talents you awarded us. Amen.
Prayers: Select your own personal prayers from our website.
St Margaret of Scotland: Pray for Us
+In the Name of the Father, and of the Son, and of the Holy Spirit. Amen+
[To view and enjoy the full Readings for today TAP HERE]