Featured Saint: St Margaret of Scotland (1045 Approx. – 1093)
St Margaret was also known as Margaret of Wessex, Queen Margaret of Scotland and the Pearl of Scotland.
St Margaret was born in Hungary while her father, Prince Edward, was in exile. She grew up in a very religious and pious environment. Her family returned to England in 1057 whereupon, her father suddenly died on arrival. In 1068 the family again fled England, on this occasion to Scotland. There she married King Malcolm III and they had eight children.
St Margaret established various monasteries and Centers of Prayer. She happily tended to many daily charitable needs; serving food to orphans and the poor before she ate each day. It is also said that she would often wash the feet of the poor, in imitation of Christ's act on Holy Thursday. She rose at midnight to attend daily Church services and spent much of her personal time in prayer and doing penance.
In 1093 St Margaret's husband and son were killed in a battle, St Margaret already very ill, died three days later. She is Patron Saint of Scotland.
+ In the Name of the Father, and of the Son, and of the Holy Spirit. Amen +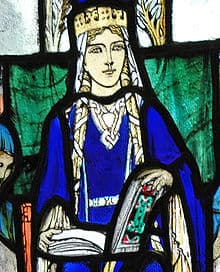 Short Story: Jesus was on the road to Jericho when he heard a blind beggar man by the roadside repeatedly shouting to him for mercy.
Jesus stopped and asked him what he wanted. The man replied, "Lord let me see again". Jesus immediately restored his sight saying, "Your faith has healed you."
Afterwards, the man continued to follow Jesus giving praise to God. (Luke 18:41)
Thoughts: Through sheer persistence and faith, we can all find and see the love of God!
Private Reflection: Lord Jesus, you know our struggles and needs. Grant us the confidence to trust in you, as we walk the path you have prepared for us. Give us renewed strength to carry our small burden. Thank you Jesus.
Prayer: Holy Spirit
Breathe into me Holy Spirit,
that my thoughts may be holy.
Move in me, Holy Spirit,
that my work too, may be holy.
Take my heart, Holy Spirit,
that I may love only what is holy.
Strengthen me, Holy Spirit,
that I may defend all that is holy.
Protect me, Holy Spirit,
that I may always be holy.
St Margaret of Scotland: Pray for Us
Today's Music Suggestion: You Raise Me Up
+ In the Name of the Father, and of the Son, and of the Holy Spirit. Amen +
[To view and enjoy the full Readings for today TAP HERE – Opens in a new Window]
(16th November 2015 ~ Luke 18:35-43)