St Margaret (1242-1271) was born the daughter of King Béla IV of Hungary. One of her sisters was also canonised a saint, Kinga of Poland, and one beatified, Blessed Yolanda of Poland.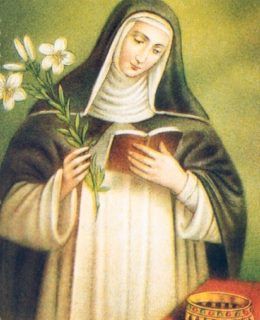 St Margaret was the ninth of ten children. At 4yrs, she was entrusted to the Veszprem Dominican Monastery and when she was 10yrs, transferred to the Monastery of the Blessed Virgin Mary on Nyulak Szigete (Margaret Island).
St Margaret became a nun, making her solemn vows when she was 18yrs. She then spent the rest of her life on Margaret Island in prayer and contemplation, resisting her father's many attempts for her to marry King Ottokar II of Bohemia.
St Margaret performed daily physical penance from her early childhood including, "wearing an iron girdle, hairshirts and nail-spiked shoes," and choosing the most demeaning general monastery chores.
St Margaret's Feast Day is the 18th of January, the day of her death. She was canonised by Pope Pius XII in 1943.
---
St Margaret:
Pray for us that we will recognise and place other peoples needs before the addition of more and unnecessary comforts to our own life.
Glory be to the…
---