Featured Saint: St Margaret Mary Alacoque (1647 – 1690)
St Margaret Mary was born the only daughter of a large family at L'Hautecour, France. She made her First Communion at 9yrs. Soon after she was confined to bed, lasting for approximately 4yrs due to severe rheumatic fever. Aged 14, she made a vow to dedicate her life to the Blessed Virgin Mary and almost immediately the rheumatic fever left her. At 17 her mother encouraged her to enter social life with the view to her finding a husband. Out of obedience to her mother she did, but when she returned home from one social event she had a vision of Jesus scourged and bloodied from his passion. St Margaret Mary reflecting on her promise entered the Visitation Convent and became a nun. Her visions continued although few believed her so she was subjected to many rebukes and trials. Finally her visions were officially recognised by the Church and her devotion to the Sacred Heart became widespread. When her burial place was opened many years after her death, numerous miracles were immediately reported and her body was found to be incorrupt. She is the patron Saint of Polio sufferers.
+In the Name of the Father, and of the Son, and of the Holy Spirit. Amen+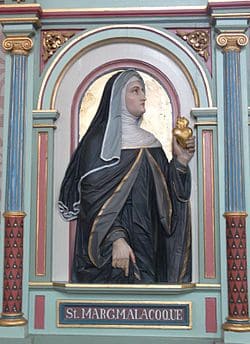 Short Quote: Sometimes Jesus criticised the crowds who gathered to hear him preach. Often the people expected to see signs from heaven or miracles. Perhaps, having seen a miracle they would then want another. Jesus said to them, "…the Son of Man will be a sign to this generation". (Luke 11:30)
Thoughts: A friend's first answer is often not fulfilling enough for us in our material world! Perhaps our expectations are just like that of the crowds that followed Jesus; "a more and more please, mentality!"
Private Reflection: Lord Jesus, teach me to see you in not just one or two of the things that I do today, but in everything. You are the joy and purpose of my life.
Prayer to the Sacred Heart:
O Sacred Heart of Jesus,
I place all my trust in Thee.
Guardian Angel guide me.
Sacred Heart of Jesus,
have mercy on me.
Other Prayers: Select your own personal prayers from our website.
St Margaret Mary: Pray for Us
+In the Name of the Father, and of the Son, and of the Holy Spirit. Amen+
[To view and enjoy the full Readings for today CLICK HERE]