Featured Saint: St Margaret Mary Alacoque (1647 – 1690)
St Margaret Mary was born the only daughter in a large family at L'Hautecour, France. She made her First Communion at 9yrs. Soon after she was confined to bed, due to severe rheumatic fever.
At 14, St Margaret made a vow to dedicate her life to the Blessed Virgin Mary and almost immediately the rheumatic fever left her. At 17, her mother encouraged her to enter social life with the view to her finding a husband. Out of obedience to her mother, she did but when she returned home from one social event she had a vision of Jesus scourged and bloodied from his Passion.
St Margaret Mary, having reflected on her past promise, entered the Visitation Convent and became a nun. Her visions continued but few believed her, so she was subjected to many rebukes and trials. Finally, her visions were officially recognised by the Church and her devotion to the Sacred Heart became widespread. When her burial place was opened many years after her death her body was found to be incorrupt and numerous miracles were immediately reported. She is the Patron Saint of Polio sufferers.
+ In the Name of the Father, and of the Son, and of the Holy Spirit. Amen +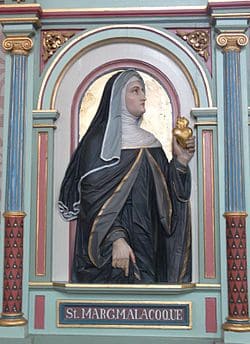 Short Quote: Jesus' everyday work and stories were often amazingly simple yet they frequently delivered a very powerful warning!
When a Pharisee once invited Jesus to his home for a meal, he accepted. The Pharisee was then shocked when Jesus sat down without washing his hands. Jesus, aware of his reaction, said, "Now you Pharisees clean the outside of the cup and the plate, but inside you are full of greed and wickedness. You fools! Didn't the one who made the outside make the inside as well?" (Luke 11:39-40)
Thoughts: God our Father knows what is in our hearts and heads, as well as the self image we portray to others!
Reflection: Lord Jesus, calm the turmoil in our ways. Take our hands and lead us to your loving care. Never allow us to be separated from you.
Prayer: Humility ~ St Alphonsus Ligouri
Most humble Jesus,
give me a share of your humility.
Take from my heart, everything that displeases you;
convert it totally to you,
so that I may no longer will or desire
anything other than what you will.
St Margaret Mary: Pray for Us
Today's Music Suggestion: All to Jesus I Surrender
+ In the Name of the Father, and of the Son, and of the Holy Spirit. Amen +
[To view and enjoy the full Readings for today TAP HERE Opens in a new Window]
(13th October 2015 ~ Luke 11:37-41)