Featured Saints: Saints Simon and Jude (1st Century)
Saints Simon and Jude were two of Jesus' Apostles. St Simon is often referred to as Simon the Zealot which clearly distinguishes him from Simon Peter. Both are often mentioned in the New Testament. St Jude's father was Clopas and his mother was Mary, cousin of the Blessed Virgin Mary. Clopas was martyred for his outspoken devotion to Jesus. The most commonly accepted tradition is that Simon and Jude travelled and preached the Gospel separately before jointly travelling and evangelizing in the Mediterranean and Middle East area. St Jude and St Simon were martyred around 65AD in Beirut. Their remains were later transferred to St Peter's Basilica, Rome.
+In the Name of the Father, and of the Son, and of the Holy Spirit. Amen+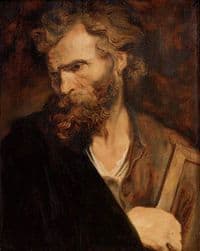 Short Story: Before Jesus appointed his twelve Apostles he went to a mountain to pray. He spent the night in prayer alone, except of course for the presence of his Father in Heaven. In the morning he returned to his disciples and chose twelve, the Twelve Apostles – Saints Simon and Jude among them.
Thoughts: Our daily decisions, small and large, somewhere down the line impact on others; take time to pray, share the workload with Jesus!
Private Reflection: Prayer for God's Guidance
God be in my head and in my understanding,
God be in my eyes and in my looking,
God be in my mouth and in my speaking,
God be in my heart and in my thinking,
God be at my end and at my departing. (Book of hours 1514)
Prayers: Select your own personal prayers from our website.
St's Simon and Jude: Pray for Us
+In the Name of the Father, and of the Son, and of the Holy Spirit. Amen+
[To view and enjoy the full Readings for today CLICK HERE]