Featured Saints: Saints Simon and Jude (Died Approx. 64AD)
Saints Simon and Jude were two of Jesus' Twelve Apostles.
St Simon is often referred to as Simon the Zealot which clearly distinguishes him from Simon Peter. Both are regularly mentioned in the New Testament.
St Jude's father was Clopas and his mother was Mary, cousin of the Blessed Virgin Mary. Clopas was martyred for his outspoken devotion to Jesus.
The most commonly accepted tradition is that Simon and Jude traveled and preached the Gospel separately before jointly evangelizing in the Mediterranean and Middle East. St Jude and St Simon were martyred around 65AD in Beirut. Their remains were later transferred to St Peter's Basilica, Rome.
+ In the Name of the Father, and of the Son, and of the Holy Spirit. Amen +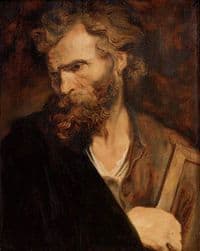 Short Story: Before Jesus appointed his twelve Apostles he went to a mountain and spent the night alone in prayer.
In the morning, he returned to his disciples and chose twelve of them, the Twelve Apostles – Saints Simon and Jude were among them.
Thoughts: Our daily decisions, small and large, somewhere down the line, impact on others; take time to pray, share the decision-making with God!
Reflection: A Prayer for God's Guidance
God be in my head and in my understanding,
God be in my eyes and in my looking,
God be in my mouth and in my speaking,
God be in my heart and in my thinking,
God be at my end and at my departing. (Book of hours 1514)
Prayer: Psalm 130
Out of the depths I cry to you, O Lord,
Lord, hear my voice.
O let your ears be attentive to the voice of my pleading.
If you, O Lord, should mark our guilt,
Lord, who would survive?
But with you is found forgiveness;
for this we revere you.
My soul is waiting for the Lord,
I count on his word.
My soul is longing for the Lord,
I count on his word.
My soul is longing for the lord,
more than watchmen for daybreak.
Because with the Lord there is mercy
and fullness of redemption,
Israel indeed he will redeem from all its iniquity.
St's Simon and Jude: Pray for Us
Today's Music Suggestion: Holy God We Praise Thy Name
+ In the Name of the Father, and of the Son, and of the Holy Spirit. Amen +
[To view and enjoy the full Readings for today TAP HERE Opens in a new Window]
(28th October 2015 ~ Luke 6:12-16)