Featured Saint: St Joseph of Leonessa (1556-1612)
Joseph was born in Leonessa, Italy. In his childhood, it is said that he regularly built small altars and grottos at which he prayed and invited his friends. Although expected to get married, after recovering from a serious illness, he instead joined the Franciscian Order; he was 16yrs old. Aged 31, Joseph was sent to Constantinople to minister to imprisoned Christians. There he lived in poverty and preached daily in the city. His insistence on preaching led to his own imprisonment and sentence of death. It is said that miraculously Joseph escaped from the gallows and was able to return to Italy where he spent the remainder of his life preaching and helping the poor.
+In the Name of the Father, and of the Son, and of the Holy Spirit. Amen+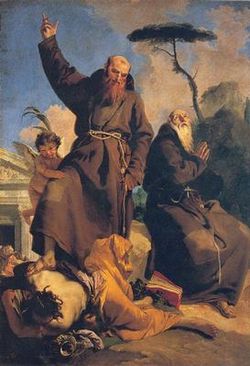 Short Quote: Jesus began teaching in his hometown of Nazareth. "Many who heard him were astonished, saying, where did he get these ideas? And what is this wisdom that has been given to him? What are these miracles that are done through his hands? Isn't this the carpenter, the son of Mary" (Mark 6:2-3)
Thoughts: Sometimes it is those who know you better than anyone else, the ones that you grew up with, that let you down the most! Jesus' hometown friends were astonished at his work but they also refused to accept him.
Private Reflection: Who do I exclude from my life? How can I make amends, make peace?
Prayer: Jesus Our True Love (by Hildegard of Bingen)
Jesus Christ, the love that gives love,
You are higher than the highest star;
You are deeper than the deepest sea;
You cherish us as your own family;
You embrace us as your own spouse;
You rule over us as your own subjects;
You welcome us as your dearest friend.
Let all the world worship you.
St Joseph: Pray for Us
Today's Music Suggestion: From a Distance
+In the Name of the Father, and of the Son, and of the Holy Spirit. Amen+
[To view and enjoy the full readings for today TAP HERE – Opens in a new Window]