Featured Saint: St John of the Cross (1542 – 1591)
St John was born at Fontiveros near Avila, Spain. His father was from a rich heritage however, when he married his lower class orphaned mother he was rejected and forced to work as a weaver. When St John was seven his father died and at 9yrs, his older brother died, probably from the effects of malnourishment. St John received a basic education in a school for poor and orphaned children. His school selected him to serve as an assistant at a nearby monastery. Thereafter, St John worked in a hospital and studied at a Jesuit school. At 22yrs he joined the Carmelites, studied Theology at the prestigious University in Salamanca and was subsequently ordained a Priest. St John, deeply influenced by a vision he received of the Crucified Christ, became a major figure of the Counter-Reformation and a reformer of the Carmelite Order. He is one of the thirty five Doctors of the Church.
+In the Name of the Father, and of the Son, and of the Holy Spirit. Amen+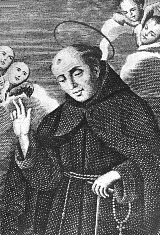 Short Quote: When John the Baptist was asked, "Who are you", he replied, "I am the voice of one crying in the wilderness, make straight the way for the Lord". (John 1:23)
Thoughts: If someone asked me "Who am I", could I say, "I am preparing for Jesus to stay in my home"?
Private Reflection: Lord Jesus, help me to spend more of my time caring for your people, so that when my time ends, you will care for me.
Prayers: Select your own personal prayers from our website.
St John of the Cross: Pray for Us
+In the Name of the Father, and of the Son, and of the Holy Spirit. Amen+
[To view and enjoy the full Readings for today TAP HERE]