Featured Saint: St John Neumann (1811-1860)
St John was born in Bohemia, Central Europe. He became a Redemptorist Priest and Bishop of Philadelphia where he created the first Diocesan school system. He is greatly remembered for embracing immigrant groups to the US, involving the assistance of others and standing up for our faith at times of opposition. His body is laid to rest at his national shrine in Philadelphia. He is the only male US canonised Saint.
+In the Name of the Father, and of the Son, and of The Holy Spirit. Amen+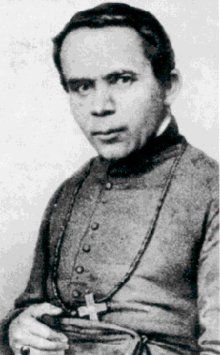 Short Quote: "Jesus began his preaching with the message, 'Repent for the kingdom of heaven is close at hand.' … He went round the whole of Galilee teaching in their synagogues, proclaiming the good news of the kingdom and curing all kinds of diseases and sickness among the people". (Mathew 4:17, 23 )
Thoughts: Jesus, you healed many who were sick in body while preaching the good news, in the hope that they would listen!
Why do we still need so many reminders and invites?
Reflection: St John Neumann exemplified how it is possible in today's world to remain in the friendship of God through daily love and care for all cultures. We can do the same but it requires equal treatment for all God's people!
Prayer: Lord Jesus, grant me the grace to live a pure and holy life. Wash from me all that destroys our friendship. Cleanse my heart.
Prayer: Come Holy Spirit
Come Holy Spirit, and fill the hearts of your faithful,
and kindle in them the fire of Your Divine Love.
Send forth Your Spirit and they shall be created,
and You shall renew the face of the earth.
Oh God, Who by the light of the Holy Spirit instructed the hearts of the faithful. Grant, that by the same Spirit we may be truly wise and
ever rejoice in His consolation. We ask this through Christ Our Lord. Amen.
St John Neumann: Pray for Us
Today's music suggestion: – Here I am Lord
+In the Name of the Father, and of the Son, and of The Holy Spirit. Amen+
[To view and enjoy the full Gospel Readings for today TAP HERE – opens in a new window]