Featured Saint: Saint James of the Marches (1391 Approx. – 1476)
St James was born into a poor family at Monteprandone in Italy. He studied under the guidance of his uncle, a Priest. He went to the University of Perugia and obtained a degree in Canon and Civil Law. Following a short teaching post and other roles, he joined the Franciscans; living under the strict rule of St Bernardine. He often voluntarily fasted for nine months of the year, on minimal food to the possible detriment of his health.
In 1420, St James was ordained a Priest and for the next half-century, He laboured in the vineyards of the Lord;" performed numerous miracles, converted many souls to Christianity and spreading devotion to the Holy Name of Jesus. St James was happy to challenge those who contradicted the Christian faith, regardless of their status. He was offered the role of Bishop of Naples but resisted. Following his death, he was buried in Naples. In 2001, when it was decided to transfer his body to his home town, it was found to be incorrupt. His body is now permanently visible to the public at Monteparndone. He is co-Patron Saint of Naples.
+ In the Name of the Father, and of the Son, and of the Holy Spirit. Amen +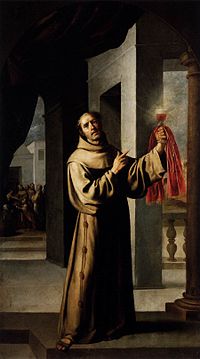 Short Story: Jesus said to the crowd, "Be on your guard so that your hearts are not weighed down with… the worries of this life". (Luke 21:34)
Thoughts: Why do we worry? Why do we seem to be always waiting on tomorrow to arrive?
Are we afraid, because we know we are not doing today what we should be, or is it our past regrets!
The questions can be many, but God loves and forgives. He invites us to talk to Him and find peace.
Private Reflection: Lord Jesus, remove all fear from our hearts and strengthen our desire to live by your teaching and your example. Lord Jesus, hear my prayer.
Prayer: Peace ~ St Francis of Assisi
Lord, make me an instrument of Your peace;
Where there is hatred, let me sow love;
Where there is injury, pardon;
Where there is error, truth;
Where there is doubt, faith;
Where there is despair, hope;
Where there is darkness, light;
And where there is sadness, joy.
O Divine Master,
Grant that I may not so much seek
To be consoled as to console;
To be understood as to understand;
To be loved as to love.
For it is in giving that we receive;
It is in pardoning that we are pardoned;
And it is in dying that we are born to eternal life.
St James: Pray for Us
Today's Music Suggestion: Holy Family
+ In the Name of the Father, and of the Son, and of the Holy Spirit. Amen +
[To view and enjoy the full Readings for today TAP HERE – Opens in a new Window]
(28th November 2015 ~ Luke 21:34-36)