Featured Saint: St Ignatius of Antioch (Approx.35 – 107)
St Ignatius was an early convert to Christianity following the crucifixion and death of Jesus. Tradition holds that he was one of the many small children whom Jesus personally took in his arms and blessed. He was a student and follower of St John the Apostle. St Peter appointed him to serve as Bishop of Antioch. His service and success was great but perhaps inevitably, St Ignatius was arrested by Roman soldiers and taken to Rome where he was sentenced to die at the Coliseum for his Christian practices and faith. Some of St Ignatius Letters to the Ephesians, Romans and others have survived and are included in the New Testament.
+In the Name of the Father, and of the Son, and of the Holy Spirit. Amen+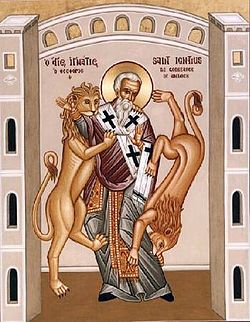 Short Quote: Jesus said to his disciples, "I tell you, my friends, do not be afraid of those who kill the body, and after that have nothing more they can do. But I will warn you whom you should fear: fear the one who, after the killing, has authority to throw you into hell. Yes, I tell you, fear him". (Luke 12:4-5)
Thoughts: Before St Ignatius was martyred by being thrown to the wild beasts for the entertainment of the Romans, he wrote, "I am dying willingly for God's sake… so that I may become the pure bread of Christ".
Private Reflection: Lord Jesus, grant me a healthy fear of God. Help me to prepare for my death and like St Ignatius, when the time comes, welcome it. May my prayers to you be free from distractions and made with an open heart. Thank you Jesus.
Prayers: Select your own personal prayers from our website.
St Ignatius: Pray for Us
+In the Name of the Father, and of the Son, and of the Holy Spirit. Amen+
[To view and enjoy the full Readings for today CLICK HERE]