Featured Saint: St Ignatius of Antioch (Approx.35 – 107)
St Ignatius was an early convert to Christianity; soon after the crucifixion and death of Jesus.
Tradition holds that St Ignatius was one of the many small children whom Jesus personally took in his arms and blessed. He was a student and follower of St John the Apostle.
St Peter appointed St Ignatius to serve as Bishop of Antioch. His service and success was great but perhaps inevitably, St Ignatius was arrested by Roman soldiers and taken to Rome where he was sentenced to die at the Coliseum for his Christian teachings, practices and faith.
Some of St Ignatius Letters to the Ephesians, Romans and others have survived and are included in the New Testament.
+ In the Name of the Father, and of the Son, and of the Holy Spirit. Amen +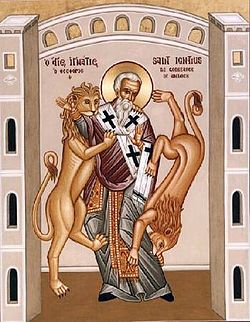 Short Quote: Jesus said to his disciples, "I tell you, whoever acknowledges me before men, the Son of Man will also acknowledge before God's angels. But the one who denies me before men will be denied before God's angels." (Luke 12:8-9)
Thoughts: Be happy and proud to tell others about Jesus; his life, death and resurrection.
The rewards promised, are great!
Reflection: Almighty Father, help us to share the life of your dear Son with others. May the spirit of his deep love freely flow from within us. We ask this through the power of your Holy Spirit. Amen.
Prayer: Holy Spirit ~ St Catherine of Siena:
Holy Spirit, come into my heart;
draw it to Thee by Thy power, O my God,
and grant me charity with filial fear.
Preserve me, O beautiful love, from every evil thought;
warm me, inflame me with Thy dear love,
and every pain will seem light to me.
My Father, my sweet Lord, help me in all my actions.
Jesus, love, Jesus, love. Amen.
St Ignatius: Pray for Us
Today's Music Suggestion: Be Thou My Vision
+ In the Name of the Father, and of the Son, and of the Holy Spirit. Amen +
[To view and enjoy the full Readings for today TAP HERE Opens in a new Window]
(17th October 2015 ~ Luke 12:8-12)