Featured Saint: St Ignatius of Loyola (1491-1556)
St Ignatius was born in Loyola, Spain. His mother died soon after his birth and he, the youngest of 13 children, was adopted by the local blacksmith's wife. St Ignatius, with a "love of martial exercises and a vain glorious desire for fame" joined the army at 17. He was happy to take up arms, engage in duels and, together with his leadership qualities he became an accomplished fighter. That is, until he sustained serious leg injuries when hit by a cannonball. St Ignatius, during his convalescence, read many religious texts and resolved to devote his future life to the conversion of non-Christians, emulating St Francis of Assisi. He studied theology, was ordained a Priest and founded the Society of Jesus (Jesuits), becoming its first Superior General. St Ignatius "is remembered as a talented spiritual director and his vigorous opposition of the Protestant Revolution. He is Patron Saint of the Society of Jesus, soldiers and parts of Spain.
+In the Name of the Father, and of the Son, and of the Holy Spirit. Amen+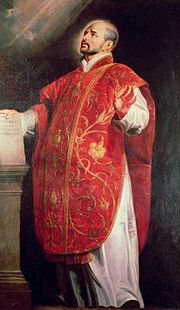 Short Quote: Jesus said that, at the end of age, "Angels will come and separate the evil from the righteous and throw them into the fiery furnace, where there will be weeping and gnashing of teeth". (Matthew 13:49-50)
Thoughts: There is a Saint in all of us. Like St Ignatius, may we find the grace to unravel our true dream and live it to the full?
Private Reflection: Lord Jesus, strengthen my resolve to dispel the darkness of evil and live a pure life.
Prayers: Select your own personal prayers from our website.
St Ignatius of Loyola: Pray for Us
+In the Name of the Father, and of the Son, and of the Holy Spirit. Amen+
[To view and enjoy the full Readings for today CLICK HERE]