Featured Feast: St Gregory of Nyssa (335-395)
St Gregory was born in Nyssa, Cappadocia, Turkey. Both Gregory and his brother Basil were canonised as Saints. He was a Bishop and noted theologian whose works included writings on the doctrine of the Trinity and todays Nicene Creed (I believe in God, … ). He was one of the many early people who helped lay the foundations of Christianity across the world.
+In the Name of the Father, and of the Son, and of The Holy Spirit. Amen+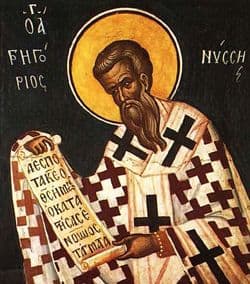 Short Quote: John the Baptist bore witness to Jesus as the Son of God saying, "I am not the Christ, but rather, I have been sent before him". (John 3:28)
Thoughts: John the Baptist was clear about his life mission; he was preparing for Christ's ministry. His faith was solid and he kept the limelight firmly on Jesus. Not long after this event, he was arrested and beheaded.
To where do I direct others through my example?
Private Reflection: Lord, guide and strengthen my personal mission today. May I remain firm to my faith and committed to your teachings. This I ask through your Holy Spirit. Amen
Prayer: The Creed
I believe in God,
the Father almighty,
Creator of heaven and earth,
and in Jesus Christ, His only Son, our Lord,
who was conceived by the power of the Holy Spirit,
was born of the Virgin Mary,
suffered under Pontius Pilate,
was crucified, died and was buried.
He descended into hell;
on the third day He rose again;
He ascended into Heaven,
and is seated at the right hand of God the Father;
from there He will come again in glory to judge the living and the dead
and his kingdom will have no end.
I believe in the Holy Spirit,
the Holy Catholic Church,
the communion of Saints,
the forgiveness of sins,
the resurrection of the body,
and life everlasting. Amen.
St Gregory: Pray for Us
Today's Music Suggestion: Bind Us Together Lord
+In the Name of the Father, and of the Son, and of The Holy Spirit. Amen+
[To view and enjoy the full readings for today TAP HERE – Opens in a new Window]