Featured Saint: St Gertrude the Great (1256 – 1302)
St Gertrude was born at Eisleben, Germany. She joined a monastery at 4yrs; possibly because she was orphaned or her parents offered her as a child oblate to the Church. She received a sound education as demonstrated by her fluency in Latin and became a nun with the Order of her monastery. At the age of 26yrs, she experienced her first of many visions which continued throughout her life. She was one of the great mystics of her time; seeing and describing herself as a bride of Christ. She devoted much of her prayer life to the Sacred Heart of Jesus and the Holy Souls in Purgatory. Only a few of her many writings have survived over the years. She is Patroness of the West Indies.
+In the Name of the Father, and of the Son, and of the Holy Spirit. Amen+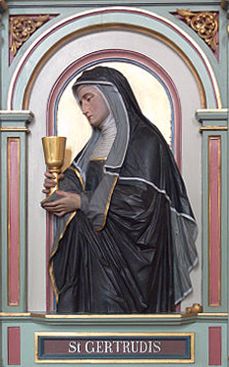 Short Story: Jesus' description of judgement day was stark. He said to his disciples, "I tell you, in that night there will be two people in one bed; one will be taken and the other left. There will be two women grinding grain together; one will be taken and the other left". (Luke 17:34-35)
Thoughts: Jesus is love; love only Him and find true happiness.
Prayer: Sacred Heart of Jesus – by St Gertrude
O Sacred Heart of Jesus,
fountain of eternal life,
Your Heart is a glowing furnace of Love.
You are my refuge and my sanctuary.
Prayer: For the Holy Souls in Purgatory – St Gertrude
Eternal Father,
I offer You the most precious blood of thy Divine Son, Jesus,
in union with the Masses said throughout the world today,
for all the Holy Souls in Purgatory,
for sinners everywhere,
for sinners in the universal church,
for those in my own home and in my family. Amen.
St Gertrude: Pray for Us
+In the Name of the Father, and of the Son, and of the Holy Spirit. Amen+
[To view and enjoy the full Readings for today TAP HERE]