Featured Saint: St Francis Xavier (1506 – 1552)
St Francis was born the youngest son to an aristocratic family at Xavier Castle, Spain. Much of his youth was mired by wars. His father died when he was 9yrs old. At 19yrs he left his home to study in Paris and five years later, was awarded a Masters degree in Arts. Although apparently destined for an academic life, with St Ignatius of Loyola and five others, they founded the Society of Jesus (Jesuits). All made vows of poverty, chastity and obedience, and planned to work as missionaries, converting non-Christians. They studied together for the priesthood and were all ordained in 1537. After a period of work in a Bologna hospital and Rome, St Francis set off for Asia as the first Jesuit missionary. He devoted his main missionary life to Goa and India, Indonesia and Japan and converted many thousands to Christianity. He died while on his way to mainland China to continue his preaching and conversion, aged just 46yrs. He is Patron Saint of many missions throughout the world.
+ In the Name of the Father, and of the Son, and of the Holy Spirit. Amen +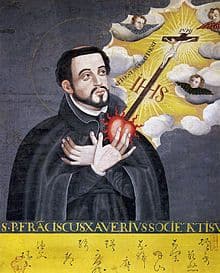 Short Story: Jesus went up a mountain near to the Sea of Galilee. Large crowds came to him bringing the lame, blind, crippled, mute and people with many other ailments. Jesus healed them. "The crowd was amazed when they saw the mute speaking, the crippled healthy, the lame walking, and the blind seeing, and they praised the God of Israel". (Matthew 15:31)
Thoughts: What joy it must have been for the crowds, families, parents, sons, daughters… to see all these amazing miracles and hearing Jesus preach. Truly, a time of celebration.
Private Reflection: Holy Trinity, glorious and triumphant, we give praise to the Father, Son and Holy Spirit, now and forever.
Prayers:
St Francis Xavier: Pray for Us
Today's Music Suggestion:
+ In the Name of the Father, and of the Son, and of the Holy Spirit. Amen +
[To view and enjoy the full Readings for today TAP HERE – Opens in a new Window]
(3rd December 2015 ~ Matthew 7:21-27)