Featured Saint: St Dominic Savio (1842 – 1857)
St Dominic Savio was born near Turin, Italy. His early childhood was spent with his caring parents in their family home. By the age of four, he had learnt to recite traditional church prayers and regularly, did so without help or reminding. Dominic often attended daily Mass with his mother and by five, was accepted as an Altar Server.
It was not unusual to find Dominic on his knees praying outside his local church in the morning before it opened. He excelled at school and was allowed to receive his first Holy Communion early, 7yrs rather than the stipulated 11. Following his first Holy Communion he wrote, "That was the happiest and most wonderful day of my life." At ten, Dominic transferred to high school. It was a daily 10km walk and, when once asked if he was not tired from walking, he replied "Nothing seems tiresome or painful when you are working for a master who pays well."
Dominic wanted to become a Priest so he was transferred to Turin under the direction of St John Bosco but, his health failed him. Dominic died at the age of 14yrs; his last words to his father were, "Goodbye, Dad, goodbye . . . what was it the parish priest suggested to me … I don't seem to remember . . . Oh, what wonderful things I see".
+In the Name of the Father, and of the Son, and of the Holy Spirit. Amen+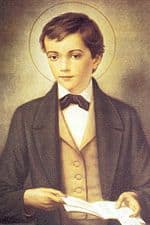 Short Quote: When Jesus announced that he was the Christ, he did it in his hometown, Nazareth. At first they were astonished, but then listening to his preaching a little further, they became enraged and forced him out of the town to the brow of the hill, "so they could throw him down the cliff." (Luke 4:29)
Thoughts: St John Bosco's Mother's once said about Dominic Savio:
"You have many good boys, but none can match the good heart and soul of Dominic. I see him so often at prayer, staying in church after the others; every day he slips out of the playground to make a visit to the Blessed Sacrament. When he is in church he is like an angel living in Paradise."
Reflection: Can you become a Saint? Yes, Dominic Savio once wrote, adding:
1. God wants all of use to be Saints.
2. It is easy to become a Saint.
3. There is a great reward in heaven for those who try to become Saints.
Prayer: Guidance (Basil of Caesarea)
Steer the ship of my life, good Lord,
to your quiet harbour,
where I can be safe from the storms of sin and conflict.
Show me the course I should take.
Renew in me the gift of discernment,
so that I can always see the right direction in which I should go.
And give me the strength and the courage to choose the right course,
even when the sea is rough and the waves are high,
knowing that through enduring hardship and danger,
in your name we shall find comfort and peace.
St Dominic Savio: Pray for Us
Today's Music Suggestion: Christ Be Our Light
+In the Name of the Father, and of the Son, and of the Holy Spirit. Amen+
[To view and enjoy the full Readings for today CLICK HERE – Opens in a new Window]