Featured Saint: St Catherine of Sweden (1332 – 1381)
St Catherine married a devout nobleman at a very young age but they both took vows of celibacy. At around 17yrs, when travelling to Rome with her mother (St Birgitta of Finsta) her husband died. She remained in Rome with her mother and accompanied her on visits including, to the Holy Land. When her mother died, she returned to Sweden, taking her body home for burial.
St Catherine became Head of St Brigittine Convent at Vadstena Abby, which her mother founded. She lived by the rules her mother had stipulated. Later, St Catherine returned to Rome, staying five years, preparing for her mother's canonisation. During that time she met and formed a close relationship with St Catherine of Siena. St Catherine is often pictured with a female deer which, it is said came to her help when youths tried to harm her. She is Patron Saint of Protection Against Abortion.
+In the Name of the Father, and of the Son, and of the Holy Spirit. Amen+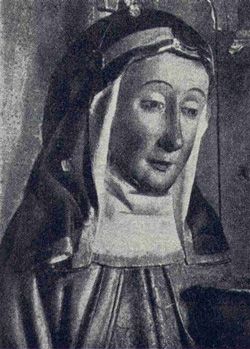 Short Story: The Pharisees and Jewish Elders questioned Jesus about where He came from and where He was going. Jesus replied, "You people are from this world; I am not from this world. I do nothing on my own initiative, but I speak just what the Father taught me. The one who sent me is with me. He has not left me alone." (John 8:23, 28-29)
Thoughts: Many of the questions being directed at Jesus by the Elders and others were often to find fault with him but, as on so many previous occasions they were left speechless. Jesus was simply doing as his Father had asked him.
Private Reflection: Lord Jesus, help me to get on with my own personal mission rather than asking yet more delaying questions!
Prayer: Trust in Jesus by St. Ignatius of Loyola
O Christ Jesus,
when all is darkness
and we feel our weakness and helplessness,
give us the sense of Your presence,
Your love, and Your strength.
Help us to have perfect trust
in Your protecting love
and strengthening power,
so that nothing may frighten or worry us,
for, living close to You,
we shall see Your hand,
Your purpose, Your will through all things.
St Catherine of Sweden: Pray for Us
Today's Music Suggestion: Shout to the Lord
+In the Name of the Father, and of the Son, and of the Holy Spirit. Amen+
[To view and enjoy the full Readings for today

TAP

HERE – Opens in a New Window]