Featured Saint: Bridget of Ireland: (ca 453-524)
Bridget is one of Irelands best known Saints, along with St Patrick and St Columba. She is sometimes known as Bridget of Kildare. As with most early Church Saints, written records about her are limited and incomplete. From birth, Bridget was believed to have been especially blessed and numerous miracles were attributed to her throughout her life. At a young age, Bridget committed herself to a religious life and later established many prayer centres and monasteries. The unique St Bridget's Cross, often made from plant stalks, is attributed to her; it remains a common religious feature in Irish homes and Irish culture. St Bridget is also venerated in many European countries and America. Part of her remains is preserved in the Church of St John the Baptist, Lumiar, Portugal.
+In the Name of the Father, and of the Son, and of the Holy Spirit. Amen+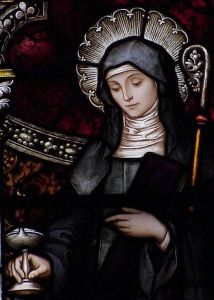 Short Story: When some in the crowd asked Jesus why his disciples were not fasting but others were, he used simple logic to explain. In one response he said, "no one sews a patch of unshrunk cloth on an old garment, otherwise, the patch pulls away from it, the new from the old, and the tear becomes worse". (Mark 2:21)
Thoughts: Jesus was not telling the crowd to avoid fasting. To the contrary, fasting has its place. He was saying that we should seek the right time and means to show that we truly love God. As lent approaches, self denial of selected benefits, is one possible occasion!
Private Reflection: Lord Jesus, help me to plan for Lent. May my expression of love for you, through self-denial, be sincere. Give me the courage and strength to sacrifice a few of my simple daily luxuries, knowing that they will be but, a small cross to carry.
Prayers: I Arise Today (St Bridget of Ireland)
I arise today with a great strength:
God's power to guide me,
God's might to uphold me,
God's eyes to watch over me,
God's ear to hear me,
God's word to give me speech,
God's hand to guard me,
God's way to lie before me,
God's shield to shelter me and
God's host to secure me.
St Bridget: Pray for Us
Today's Music Suggestion: Amazing Grace
+In the Name of the Father, and of the Son, and of the Holy Spirit. Amen+
[To view and enjoy the full Readings for today TAP HERE – Opens in a new Window]