Featured Saint: St Bernard of Clairvaux (1090 – 1153)
St Bernard was born into royalty, the third in a family of ten children at Fontaine-Les-Dijon, France. He excelled at school and developed a special devotion to the Blessed Virgin Mary; a devotion that, in later life, he preached to others.
At 19, St Bernard's mother died and he decided to join the Cistercian Order. There he founded Clairvaux Abbey and was appointed its Abbot. The regime that he set within the Abbey, was so austere that even he became ill. However, followers flocked to it including, his father and all his brothers.
St Bernard defended the rights of the Church against the encroachments of Kings and Princes'. He assisted in bringing to an end, a disagreement within the Church regarding Papal appointments and was called upon to help combat heresy. St Bernard is a noted Doctor of the Church.
+In the Name of the Father, and of the Son, and of the Holy Spirit. Amen+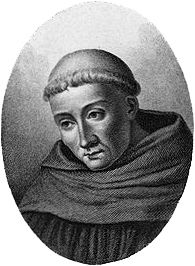 Short Quote: Jesus said, "Many are called but few are chosen". (Matthew 22:14)
Thoughts: Pope Saint Pius, when referring to his humble origins said, "I was born poor, I have lived poor, and I wish to die poor".
However, he built great treasures in heaven, while on earth!
Reflection: Lord Jesus, guide me on my road today.
As I perform my duties, gather the riches that I sow from among your people and accept my humble prayers of thanks.
Prayer: Abandonment ~ by Charles de Foucauld
Father, I abandon myself into your hands;
do with me what you will.
Whatever you may do, I thank you;
I am ready for all, I accept all.
Let only your will be done in me.
I wish no more than this, O Lord.
Into your hands I commend my soul:
I offer it to you with all the love of my heart,
for I love you, Lord, and so need to give myself,
to surrender myself into your hands without reserve
and with boundless confidence, for you are my Father.
St Bernard of Clairvaux: Pray for Us
Today's Music Suggestion: Peace is Flowing Like a River
+ In the Name of the Father, and of the Son, and of the Holy Spirit. Amen +
[To view and enjoy the full Readings for today TAP HERE – Opens in a new Window]
(20th August 2015 ~ Matthew 22:1-14)