Featured Saint: St Anne Higham/Line (1567-1601)
St Anne was born into a protestant family in Essex, England. She converted to Catholicism, sacrificing her dowry, along with her brother and her husband. Both men were imprisoned for their religious practice but avoided execution. Following St Anne's husband's death in 1554, she took charge of a secure house hiding Catholic Priests from the then Royal purge, under Elizabeth I, against Catholics. She resided there for about three years. However, her inevitable familiarity meant that she had to keep moving from house to house to offer the same level of protection to Catholic Priests and their devoted community. In February 1601 her cover was broken and she was arrested. St Anne was tried on 26th February for harbouring a Catholic Priest and found guilty; she didn't deny the charge. On 27th February she was hanged (aged 33yrs) in front of two Catholic Priests awaiting their own execution. Anne is one of the noted 40 English Martyrs.
+In the Name of the Father, and of the Son, and of the Holy Spirit. Amen+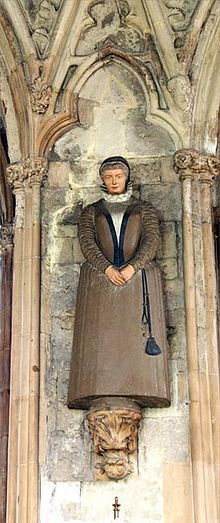 Short Quote: Jesus said, "If you bring your gift to the altar and there remember that your brother has something against you, leave your gift there in front of the altar. First go and be reconciled to your brother and then come and present your gift." (Matthew 5:23-24)
Thoughts: Pope Francis said, "Every Christian can choose between darkness and light, between love and hate." (Christmas 2013)
Private Reflection: Lord Jesus, soften my heart so that I may freely forgive and reconcile with my brothers and sisters across the world, regardless of their religion, culture or belief. May today be a day of happiness and joy in this diverse world.
Prayer: Peace (St Francis of Assisi)
Lord, make me an instrument of Your peace;
Where there is hatred, let me sow love;
Where there is injury, pardon;
Where there is error, truth;
Where there is doubt, faith;
Where there is despair, hope;
Where there is darkness, light;
And where there is sadness, joy.
O Divine Master,
Grant that I may not so much seek
To be consoled as to console;
To be understood as to understand;
To be loved as to love.
For it is in giving that we receive;
It is in pardoning that we are pardoned;
And it is in dying that we are born to eternal life.
St Anne: Pray for Us
Today's Music Suggestion: Peace is Flowing Like a River
+In the Name of the Father, and of the Son, and of the Holy Spirit. Amen+
[To view and enjoy the full Readings for today TAP HERE – Opens in a new Window]