Featured Saint: St Agnes of Bohemia (1211-1282)
St Agnes was born a Princess into a Royal family and was expected to marry Royalty. At the age of 8yrs she was engaged to Henry King of the Romans (son of Emperor Fredrick II – King of Sicily). Henry was at the time 10yrs old. Six years later her engagement was cancelled but Agnes remained a "valuable marriage pawn" to those in power. As family friendships and European politics changed, their plans for Agnes also changed but Agnes, quickly grew tired of their revised "Royal" expectations. Instead, she decided to take control of her own future and opted for a life of charity and piety over a life of comfort and luxury. St Agnes' early pioneering action was to establish a hospital with the help of the Franciscan's and Poor Clare's. Agnes later joined the Poor Clare's and became an Abysses. She died, at the age of 70yrs, in her established hospital/monastery complex.
+In the Name of the Father, and of the Son, and of the Holy Spirit. Amen+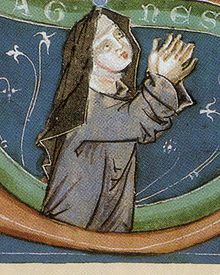 Short Quotation: Jesus said, "Be merciful, just as your Father is merciful. Do not judge, and you will not be judged; do not condemn, and you will not be condemned; forgive, and you will be forgiven. Give and it will be given to you". (Luke 6:36-38)
Thoughts: Jesus reminded us many times, do on to others as we hope God our Father will do to us; put others first!
Private Reflection: Lord Jesus, may my actions bear witness to the faith I profess, and excuses find no resting place within my heart.
Prayer: An Invitation
O God, help me to fully accept your invite,
and concentrate only on you:
I cannot do this alone.
In me there is darkness but with you there is light.
I am lonely but you do not leave me.
I am feeble in heart but with you there is help.
I am restless but with you there is peace.
In me there is bitterness but with you there is patience.
I do not understand your ways but you know mine.
O God, restore me to liberty,
and enable me so to live now
that I may answer before you and before me.
Lord, whatever this day may bring,
may your name be praised forever.
(Adapted by Prayer Calendar – Dietrich Bonhoeffer)
St Agnes: Pray for Us
Today's Music Suggestion: Bind us Together
…together in love.
+In the Name of the Father, and of the Son, and of the Holy Spirit. Amen+
[To view and enjoy the full Readings for today TAP HERE – Opens in a new Window]