Featured: Blessed Junipero Serra: (1713 – 1784)
Blessed Junipero Serra was born in Petra, Spain. At 17 he joined the Franciscans and was appointed Lecturer of Philosophy before his ordination as a Catholic Priest. He continued his studies at Lullian University and gained a Doctorate in Theology. He was considered intellectually brilliant by his peers. At 35, Blessed Junipero left his academic life behind and joined the missions to fulfil his lifelong ambition. He was appointed Superior of a group of 15 Franciscans and they set out for the Indian Missions of Baja California. Their primary task was to convert the Indians. He learnt their language, translated the catechism and soon founded a series of other missions across California. Pope John Paul said at Blessed Junipero's beatification, "Fr Serra led the native peoples to Christ …" and on the way he, "had to admonish the powerful … so not to abuse and exploit the poor and the weak".
+In the Name of the Father, and of the Son, and of the Holy Spirit. Amen+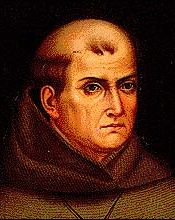 Short Story: When Jesus was confronted by two demon possessed men the demons cried out, "Son of God leave us alone" (Matthew 8:29). Jesus then cast the demons out from the men and into a nearby herd of pigs. The pigs immediately rushed into a lake and were drowned.
Thoughts: Upon simply seeing Jesus in the distance, the demons were fearful!
Private Reflection: We can also possess the same power that the demons feared through our faith and prayer life. Father, through the power of your Holy Spirit, give me the strength to use and share my gifts to their full today.
Prayers: Select your own personal prayers from our website.
Blessed Junipero Serra: Pray for Us
+In the Name of the Father, and of the Son, and of the Holy Spirit. Amen+
[To view and enjoy the full Readings for today CLICK HERE]