Featured Saint: St Thomas the Apostle: (Died 72)
StThomas was one of Jesus' twelve Apostles. He was a witness to much of Jesus' ministry. He is probably best remembered for doubting that Jesus had risen from the dead saying, "Unless I see the wounds from the nails in his hands, and put my finger into the wounds from the nails, and put my hand into his side, I will never believe it". When Jesus later appeared to Thomas and showed him his wounds and invited him to examine them, an overwhelmed St Thomas immediately believed, acknowledging Him as "My Lord and my God". (John 20:28) After Jesus' Ascension to Heaven, St Thomas travelled to India to spread the Good News of the Gospel. According to tradition he was killed in 72AD.
+In the Name of the Father, and of the Son, and of the Holy Spirit. Amen+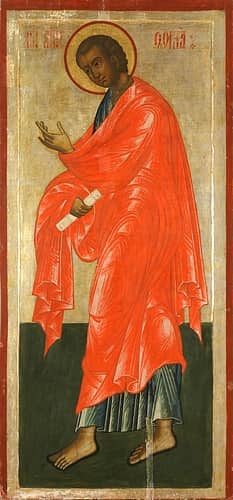 Short Quote: When Jesus arose from the dead he appeared to many including the Apostles. Doubting Thomas was able to see his wounds and talk to Him so he believed. Jesus said to Thomas, "Blessed are the people who have not seen and yet have believed."(John 20:29b)
Thoughts: Father, thank you for my gift of faith, I do not doubt, I believe.
Private Reflection: Lord Jesus, today I pray for all doubting Thomas's. May they find peace in their hearts and true faith in you. May my outward example permeate their life and help them to believe.
Prayers: Select your own personal prayers from our website.
St Thomas: Pray for Us
+In the Name of the Father, and of the Son, and of the Holy Spirit. Amen+
[To view and enjoy the full Readings for today CLICK HERE]