Featured Saint: St Elizabeth of Aragon: (1271 – 1336)
St Elizabeth was born into royalty at Zaragoza, Portugal. She was named after her great aunt, St Elizabeth of Hungry. At 10yrs, she was contracted to marry King Denis of Portugal; he was 26 and she was 17 when they married. They had two children. St Elizabeth was enthusiastic in her faith; she practiced the sacraments, engaged in daily prayer (Divine Office) and made regularly penance. When her husband died, she retired to a Poor Clare Monastery and joined the Order of St Francis. Her life then became even more devoted to helping the poor and those in need, as well as, retaining past royalty roles particularly her acts of peacemaker to quell feuds between Kings. Upon her return from one such successful mission, when two armies were assembled in readiness to fight, she fell ill and died. Many miracles were reported followed her death.
+In the Name of the Father, and of the Son, and of the Holy Spirit. Amen+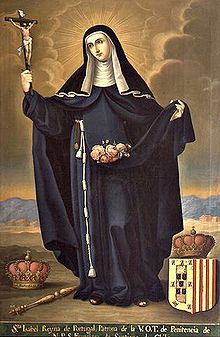 Short Quote: Jesus sought every opportunity to talk to people and share Gods message. He was even happy to sit down and eat with sinners and tax collectors who were often despised by the people. His response to those who questioned why he did so was, "I did not come to call the righteous, but sinners". (Matthew 9:13b)
Thoughts: It's good to know that there is a place for everyone at your table, Lord. I am a sinner!
Private Reflection: Lord with your grace, my heart will be cleansed and my actions renewed. May everything that I do today, please you a little bit more than yesterday, Lord!
Prayers: Select your own personal prayers from our website.
St Elizabeth of Aragon: Pray for Us
+In the Name of the Father, and of the Son, and of the Holy Spirit. Amen+
[To view and enjoy the full Readings for today CLICK HERE]