Feast Day: Mary, Queen of Heaven.
Renina Caeli or Queen of Heaven is one of the many titles bestowed on the Blessed Virgin Mary. This title originates from her assumption to heaven and crowning as its Queen. Mary, the earthly Mother to Jesus, and her husband Joseph would have enjoyed many wonderful family moments as all families do but, she also suffered greatly as Jesus was condemned and crucified. Her reward however is now everlasting happiness with God the Father.
+In the Name of the Father, and of the Son, and of the Holy Spirit. Amen+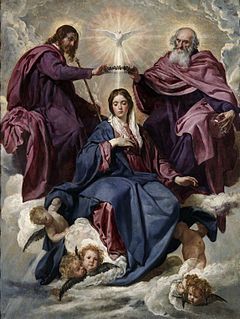 Short Story: When Jesus was asked which was the greatest commandment, He said, "Love the Lord your God with all your heart, with all your soul, and with all your mind." (Matthew 22:37)
Thoughts: Mary, our Queen in heaven, was a loving Mother to Jesus. Today, she wants to be that same loving Mother to us. Seated among the Angels and Saints, she awaits our call. (At what time will I make it!)
Private Reflection: Today, I praise you Mary: Prayer Regina Caeli (Queen of Heaven)
Queen of Heaven, rejoice. Alleluia.
For He whom thou didst merit to bear, Alleluia,
Hath arisen as He said, Alleluia.
Pray for us to God, Alleluia.
Rejoice and be glad, O Virgin Mary, Alleluia.
For the Lord hath risen indeed, Alleluia.
Let us Pray: O God, who, through the Resurrection of Thy Son our Lord Jesus Christ, didst promise to fill the world with joy; grant, we beseech Thee, that, through His Virgin Mother, Mary, We may attain the joys of everlasting life. Through the same Christ our Lord. Amen.
Prayers: Select your own personal prayers from our website.
Mary, Queen of Heaven: Pray for Us
+In the Name of the Father, and of the Son, and of the Holy Spirit. Amen+
[To view and enjoy the full Readings for today CLICK HERE]