Featured Saint: St Marcellinus and St Peter (Died 304)
St Marcellinus was a Priest and St Peter a Holy man. They both suffered the same fate as many hundreds of other Christians during the reign of Diocletian the Roman Emperor. Initially Diocletian allowed Christian worship to take place but from 302, perhaps influenced by others, he started an unrelenting programme of persecution. Firstly, all soldiers were instructed to renounce their faith and worship Roman gods then, church property and assets were confiscated and finally, every remaining Christian arrested. The choice given to Christians was stark; either abandon their faith or face execution. It is said that Marcellinus and Peter were executed outside Rome in an area of rough ground so as to deny them a proper burial and prevent their Christian community from having access to their bodies. St Marcellinus and Peter happily assisted in preparing their burial spot as they prepared for their imminent martyrdom and eternal salvation.
+In the Name of the Father, and of the Son, and of the Holy Spirit. Amen+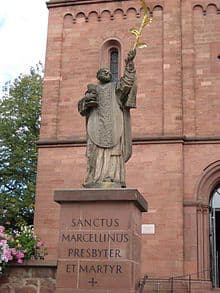 Short Story: Jesus told the story about the rich man and Lazarus. His introduction was spellbinding. "There was a rich man who dressed in purple and fine linen and who feasted sumptuously every day. But at his gate lay a poor man named Lazarus whose body was covered with sores, who longed to eat what fell from the rich man's table. In addition, the dogs came and licked his sores". (John 16:19-21) Those who listened to Jesus were sure to be fixed on his every word right to the story's end. Of course, Lazarus ended up in heaven while the rich man, suffering the torment of hell, begged God to send Lazarus to tell his five brothers of his agony.
Thoughts: The World Bank defines extreme poverty as those living on less than $1 per day. Today, the estimated number of people classified as living in extreme poverty is 1.2 billion people. The present world population is around 6.8 billion.
Private Reflection: Let's pray that, with God's guidance, today we will do what is right for ourselves, our family and the poor.
Prayers: Select your own personal prayers from our website.
St Marcellinus and St Peter: Pray for Us
+In the Name of the Father, and of the Son, and of the Holy Spirit. Amen+
[To view and enjoy the full Readings for today CLICK HERE]